Build Your Capabilities to Successfully Transform Organizations Digitally
12 Jun, 2023
In today's rapidly evolving digital landscape, the United Arab Emirates (UAE) stands at the forefront of technological advancements, harnessing the transformative power of information systems and emerging technologies to drive innovation, efficiency, and growth across industries.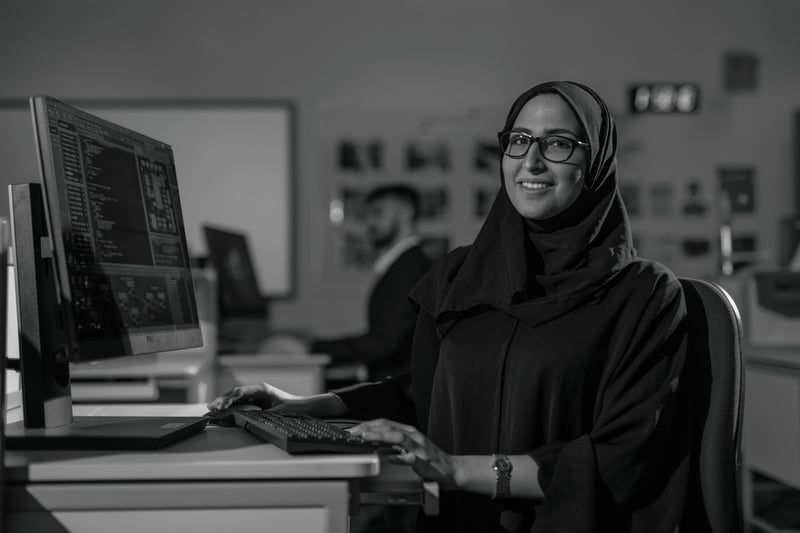 The UAE government has been fostering collaboration with global companies to drive digital transformation and development. For example, the UAE's Minister of State for Artificial Intelligence, Digital Economy, and Remote Work Applications Office, signed a collaboration agreement with Cisco - a global networking, collaboration and cyber security leader to expand Cisco's Country Digital Acceleration program in the UAE.

By establishing strong ties with global companies, the UAE solidifies its position as a hub for innovation and sets the stage for continued advancements in information systems management, benefiting both the public and private sectors alike.

There has never been a better opportunity for students in the UAE to learn and excel in the field of information systems management. With the growing demand for professionals in this field and the opportunities for growth and impact, it is a career path that promises both personal and professional rewards.

Master of Science in Information Systems Management: Program Overview


During a recent interview, Dr. Ravishankar Sharma, Professor at the College of Technological Innovation on the Zayed University Abu Dhabi campus elaborated on the Master of Science in Information Systems Management offered by Zayed University.


Key Takeaways
The primary objectives of the Master of Science in Information Systems Management.

The competitive advantage of Zayed University's Master of Science in Information Systems Management.

Mandatory requirements for program admission.

Career prospects upon completion of the program.

Information on the program duration and course delivery format.

Unique learning opportunities and experiences.


Information Systems Management Professionals in the United Arab Emirates

The remuneration for information systems management professionals in the UAE is notably lucrative, with salary ranges varying based on several key factors. Worldsalaries quoted annual average salaries between AED 208,600 to AED 409,000 for information systems management professionals employed in the UAE.

Factors influencing higher earnings for Information Systems Management professionals include the level of experience and seniority within the organization, as well as the industry and sector in which the professionals operate. Moreover, proficiency in emerging technologies such as blockchain, data analytics, and cyber security, can significantly contribute to higher compensation. Demonstrating a track record of successful project management, leadership abilities, and the ability to align technology initiatives with business goals can further enhance earning potential.

With the UAE government focusing on devising the UAE's National Digital Government Strategy, which highlights the government's initiatives and plans for digital transformation, it is evident that Information Systems Management professionals have great scope in the UAE.

Acquire Highly Sought-After Skills for Career Development, and Progression in a Rapidly Growing Field

The Master of Science in Information Systems Management program provides students with the opportunity to take advantage of new opportunities offered by digitization and addresses the challenges of digital transformation within organizations.

Besides gaining hands-on experience with emerging technologies such as AI, blockchain, big data, business intelligence, block chain and Internet of Things, students will acquire the skills needed for emerging technology adoption. Students also will learn advanced management techniques to adapt, transform, and innovate technological strategies and processes to significantly improve the performance of organizations and overall stakeholder experience.

Furthermore, students will gain the knowledge, skills, and expertise to become an authority in:

Systemic properties of organizational contexts.

IS investigation and analysis.

Emerging IS knowledge to achieve enterprise goals and competitive advantage.

Legal issues pertaining to IS and emerging technologies, and strategies for IT solutions.

IS / digital transformation solutions and emerging technologies solutions.

Adapting, integrating, and managing IS and emerging technologies solutions within an organization using a variety of methods.


As the importance of IT and disruptive technologies across various industries grows, an increasing number of upper-level management roles will emerge within government entities, non-governmental bodies, solidifying the academic and authoritative foundation provided by the master's degree.

Aligned with the UAE government's digital transformation and artificial intelligence initiatives, the Master of Science in Information Systems Management facilitates access to a wide array of multi-faceted and rewarding career paths such as assuming the position of IT managers, responsible for supervising technology infrastructure and harmonizing it with organizational goals. Additionally, they can opt for the role of business analysts, which entails bridging the divide between business requirements and technological resolutions. Furthermore, within the realm of data analysis, there are prospects for individuals to engage in the collection and interpretation of intricate data sets, thereby facilitating data-driven decision-making.

The field of information security management presents an alternative career trajectory, focusing on safeguarding and upholding the integrity of an organization's data. Other viable avenues encompass project management, IT consulting, systems analysis, and the esteemed position of Chief Information Officer (CIO). The 2023 UAE Michael Page Salary Guide and Hiring Insights includes current, comprehensive salary benchmarking. For example, a Chief Information Officer (CIO) may earn from AED 70 – AED 130, a Chief Technology Officer (CTO) AED 50 to AED 120 and a Chief Information Security Officer (CISO) from AED 60 – AED 110. (Salaries are shown per month in thousands of Arab Emirates Dirham (AED) - basic, housing and transport.)

Studying for a master's degree is a challenging and rewarding experience and demonstrates a significant personal commitment. Contact the Deanship of Graduate Studies at +971-2-599-3605 /

dgs.recruitment@zu.ac.ae

to arrange for a telephone or in-person meeting with the Graduate Program Coordinator, Dr. Ashraf Khalil to learn more about the Master of Science in Information Systems Management program and to discuss your suitability and eligibility for admission.