Digital Transformation and Information Systems: Careers and Earning Potential
10 Mar, 2022
Revised on 5 September 2023
The digital world continues to change at an accelerating pace, and it can be a daunting task to keep up with the latest trends in technology. With the advent of the recent pandemic, businesses have turned to creative digital solutions where employees can work remotely and engage to meet their customers' needs. The rapidly accelerating digital landscape has changed the face of many industries. In such an era of a new normal, it is important to recognize and understand how the business dynamics have changed.
Being one of the leading public universities in the United Arab Emirates, Zayed University has been helping students maximize their knowledge of the Web 3.0 revolution through its internationally recognized graduate programs.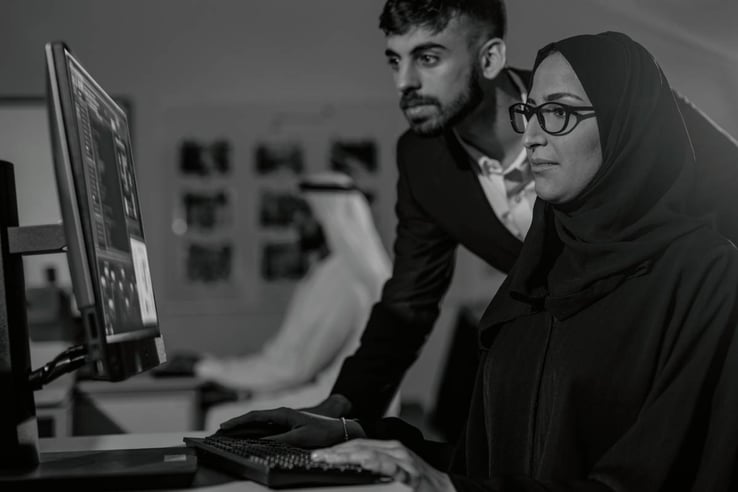 Turn Your Talent into a Skill
Digital transformation requires an innovative approach towards business models and markets, thus potentially boosting the rate of return on investment. The Master of Science in Information Systems Management offered by the College of Technological Innovation, Zayed University is centered around digital transformation and plays an integral role in building technological strategies and digital solutions for any organization. The master's degree program focuses on a holistic approach to shape its students for the age of digitization by:

• Developing different processes and business solutions that improve the ability of innovative thinking in students;
• Adapting to the emerging technologies that enable digital transformation; and,
• Adopting the changes that make business models thrive in the digital market.

The MSISM program equips graduate students with the skillset to initiate, manage and lead digital transformation in companies. Students also gain hands-on experience with disruptive technologies including artificial intelligence, big data, data science, Internet of Things, and blockchain. They learn how businesses can effectively use these emerging technologies to innovate and reshape business processes to create value for customers. In addition to these, the program will also guide students through human resource capabilities and large-scale industry changes. Furthermore, the College of Technological Innovation collaborates with industry and government sectors, such as IBM and SAP, for students to learn how to apply new technologies to real-life problems in various sectors.

Careers in Digital Transformation and Information Systems
Dr. Feras Al Obeidat, Associate Professor, Zayed University commented, "As the MSISM program is aligned to the UAE government needs and the UAE 2021 vision initiative related to digital transformation and artificial intelligence, it is expected that new, flexible, and well-paid digital jobs and industries will emerge in the immediate future. Furthermore, as technology is constantly advancing, employers increasingly will demand core management skills and highly digital skilled professionals. Given there is a significant global shortage of digital skill sets in organizations, new knowledge and expertise gained through re-skilling and upskilling not only future proof a student's current career but also enhances the students' chances of employability."

Upper-level management and other career opportunities in industry sectors such as business, construction, health care, wholesale/retail, energy, finance and economics, aviation, manufacturing, telecommunications, public services (law enforcement and security), etc. will continue to emerge in the years ahead. Typical roles for MSISM graduates immediately following degree completion include chief technology officer, chief information officer, digital transformation consultants, managers and leaders, information technology specialists, data analyst/scientist, data/machine learning engineers, as well as artificial intelligence-related jobs. Apart from these, MSISM graduates also will have the opportunity to work as business intelligence/technology consultants, and application/business process/business intelligence analysts. Being an expert in transforming businesses, graduates will be in high demand across the emerging startup culture.

Earning Potential
The US Bureau of Labor Statistics states that the median wage for a Digital Transformation Manager is $155,850. However, those who have earned an advanced degree earn an average of $185,200.

The Michael Page Salary Guide and Hiring Insights United Arab Emirates 2022 indicated that digital transformations project management expertise is in high demand. "Managing the process when a business needs to pivot, build and release a new digital route to market in an efficient and timely manner is an in-demand skill. Adaptable project management professionals are needed to facilitate the on-going digital transformation and product development happening across all industries. There has been a shift from project management to product management due to companies launching new digital products and services."

The Michael Page Salary Guide and Hiring Insights United Arab Emirates 2023 lists the following 2023 benchmarked monthly salaries* for the United Arab Emirates in the area of digital transformation and strategy:

- Chief Digital Officer (AED 50,0000 - 90,000)
- Head of Digital (AED 40,000 - 70,000)
- Digital Transformation Manager (AED 40,000 - 65,000)
- Agile Lead (AED 30,000 - 45,000)
- Scrum Master (AED 30,000 - 40,000)
- Digital Strategist (AED 25,000 - 35,000)
- Digital Project Manager (AED 20,000 - 30,000)

According to the Michael Page Salary Guide and Hiring Insights United Arab Emirates 2022, "Demand has increased for technology consulting professionals with skills and experience gained in mature markets as a result of organizations wanting to adopt a more measured and structured approach towards technology transformation."


According to the Michael Page Salary Guide and Hiring Insights United Arab Emirates 2023, "There is a severe shortage of qualified candidates. With the rapid expansion of the technology sector in recent years, the demand for IT workers has far outstripped the supply. As a result, many companies are forced to compete for a limited pool of talent. In recent years, technology-based salaries in the UAE have been increasing rapidly. This is due in part to the country's booming economy and its growing reputation as a hub for technology and innovation. In some cases, it is difficult for employers to remain competitive against the growing demands of IT experts."

In terms of executive leadership, the following 2023 benchmarked monthly salaries* were listed for the United Arab Emirates:

- Chief Information Officer (CIO) (AED 70,000 - 130,000)
- Chief Technology Officer (CTO) (AED 50,000 - 120,000)
- Chief Information Security Officer (CISO) (AED 60,000 - 110,000)
- IT Director (AED 50,000 - 80,000)
- Head of IT (AED 40,000 - 70,000)
- IT Manager (AED 20,000 - 40,000)


In terms of business analysis and project management, the following 2023 benchmarked monthly salaries* were listed for the United Arab Emirates:

- PMO Leadership (Head / Manager) (AED 35,000 - 70,000)
- IT Business Partner (AED 35,000 - 55,000
- Program Manager (AED 35,000 - 80,000)
- Project Manager (AED 25,000 - 60,000)
- Senior Business Analyst (AED 25,000 - 45,000)
- Business Analyst (AED 20,000 - 30,000)

*Monthly salaries include basic, housing and transport.


For more information on the Master of Science in Information Systems Management and the application procedures, please contact the College of Technological Innovation at +971-2-599-3605 / dgs.recruitment@zu.ac.ae