Financing Your Graduate Studies - What You Should Know
4 Jan, 2022
While many people envision pursuing a higher education degree, the associated financial investment often renders them demotivated. Choosing to do graduate studies is an investment in personal and professional development, with a cost in both time and money.
Whether a potential student plans to study at a local university or internationally, funding their graduate studies can be a challenge that can restrain them from applying to their preferred university. When it is considered that a master's degree is fast becoming an essential achievement that all too often precedes serious career advancement, issues of finance need to be resolved. Thankfully today, funding does not have to be the barrier it once was given the range of funding options now available to potential students.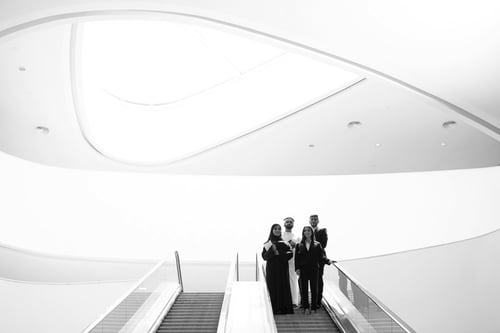 With the United Arab Emirates delivering high-quality educational offerings, a very stable economy, strong employment opportunities and an enviable lifestyle, both Abu Dhabi and Dubai have become favored study destinations for prospective graduate students from around the world. However, both cities are known to diverge more on the expensive side, making it wise for potential students to allocate a budget in advance for their living expenses that includes relocation costs, student visas, room and board, travel, incidental expenses, etc., along with the tuition fee for their program of choice.
A useful link that assists in planning living expenses associated with the pursuant of graduate studies in the United Arab Emirates, is: https://www.mastersportal.com/articles/2879/tuition-fees-and-living-costs-in-the-united-arab-emirates-in-2021.html
As noted above, while living expenses can be on the "high side", scholarships and other forms of funding arrangements are available to financially assist students. These include:
While most graduate students typically fund their studies from scholarships, bank loans, or personal savings, the majority prefer scholarships as their preferred method of funding. In the United Arab Emirates, a wide range of scholarships are made available by both public and private universities to potential graduate students regardless of citizenship. While many scholarships are awarded in recognition of previous outstanding academic achievement, many educational institutions also offer paid assistantships, discounts and bursaries to exceptional students or students with a financial need. Individual universities set their own specific scholarship requirements, application methods and deadlines, and other criteria.
For potential Emirati students, other sources of grants and scholarships are also available. These are provided by charitable foundations and both private and government organizations. Such funds are granted subject to the terms and conditions stipulated by the foundation and organization.
For example, the ICT Fund, a subsidiary of the Telecommunications and Digital Government Regulatory Authority (TDRA), seeks to strengthen the technological education of Emirati students by introducing the "Betha program" to help develop a generation well versed in science and technology, and who can lead the United Arab Emirates' future in the ICT industry. The ICT Fund offers scholarships to distinguished UAE citizens who want to pursue Zayed University's Master's in Information Technology (Cyber Security) program, offered by the College of Technological Innovation.
Some financial institutions also offer different types of student or personal loans geared to fund graduate studies. Such personal loans often come with significantly reduced interest payments that can either be repaid over a period or once the student starts to earn an income after graduation.
Once deciding to pursue a loan as the funding option, the terms and conditions of each potential loan must be considered before a final decision is made. Questions should be asked regarding what the loan is designed to cover in terms of costs, the exact amount that could be borrowed, application process, eligibility, and interest rates. Loan repayment terms depend on the type of loan and the lending institution, and it is important to clarify these details before signing off. Click on the link to learn more about the student loan criteria in the United Arab Emirates.
If the aim is to upgrade existing skills by completing a master's degree, a potential student can often consider approaching their employer and convincing them that their sponsorship and the commitment of their time to advance their career will ultimately be to the company's advantage. The nature of these sponsorships differs between organizations. Such sponsorship can vary from the payment of full tuition fees to a small contribution towards the overall costs. To initiate a conversation on this topic, the immediate supervisor or Human Resource Manager is often approached so as to get the discussion started. As several supervisors most likely will have to agree, submitting a document which summarizes the proposal, explaining the motivation and underlining the corporate benefits, will be helpful. Given that such funding could be competitive within the organization ample time should be left for discussions and final negotiations.
Support does not need to be financial. Though many graduate students self-finance their graduate studies, a company can also support employees by being flexible and allowing them to take leave or time for study, as well as recognizing the additional workload they are undertaking as a result of the study program.
As the educational landscape strengthens in the United Arab Emirates, the region is now encouraging graduate students across the world to study in Abu Dhabi and Dubai by offering admission flexibility and other law amendments such as the ten-year 'Golden Visa' for long-term residence. These initiatives have created a welcoming ground for graduate students to study in this country, and to make the most of the academic brilliance, urban opulence and cultural diversity the region has to offer. Although graduate studies represent a substantial investment in terms of time and costs, sufficient evidence exists to demonstrate that the money is well spent, with return on investment and an ascending career trajectory.
For further information regarding the graduate programs to be offered by Zayed University in Fall 2022 and the funding options available, view the brochure that outlines the financial support options available to applicants.
For more information on Zayed University's graduate programs and admission requirements, please contact the Deanship of Graduate Studies at +971-2-599-3605 / dgs.recruitment@zu.ac.ae