Four Tips to Successfully Apply for a Scholarship to Further Your Graduate Studies
24 Aug, 2021
A graduate degree is an important investment in one's career and future. As one will need to plan for tuition fees, financing graduate studies is a major consideration for any candidate. While some graduate students are financially supported by their employers, with the decline in corporate sponsorships over time, finance options available for graduate studies have become increasingly difficult. While there are certainly challenges facing the UAE with the pandemic, its economic recovery is steadily on the rise. With an increased effort to educate UAE Nationals and welcome international students, a number of awards that include scholarships, grants and financial aid in the form of bursaries or discounts continue to be made available by organizations and universities.
Apart from the UAE Ministry of Education, several government institutions provide internal and/or external scholarships for UAE National students according to certain terms and conditions. The ICT Fund is an example of an industry-specific award offering a full scholarship to UAE National students admitted to Zayed University's Master of Science in Information Technology (Cyber Security). Examples of awards made available by organizations for students to further their higher education studies include the Sheikh Mohamed Bin Zayed Higher Education Grant, Islamic Development Bank Scholarship, and the Sheikh Saud Bin Saqr Al Qasimi Foundation for Policy Research Scholarship.
Zayed University is committed to helping graduate students to afford their education. View the list of financial aid that includes academic merit and alumni scholarships as well as corporate discounts here. Also, view examples of scholarships with snapshots of awards offered by other universities located in the UAE.
Irrespective of merit-based scholarships or need-based financial aid, the scholarship eligibility criteria vary across organizations, universities, and graduate programs. With strong competition for the most generous awards, by a wide pool of potential applicants, the selection process becomes rigorous. To stand out from the crowd and to increase a graduate student's chance of receiving a scholarship award, a student must complete the scholarship application thoroughly and thoughtfully. The following notes will provide some guidance for a successful outcome.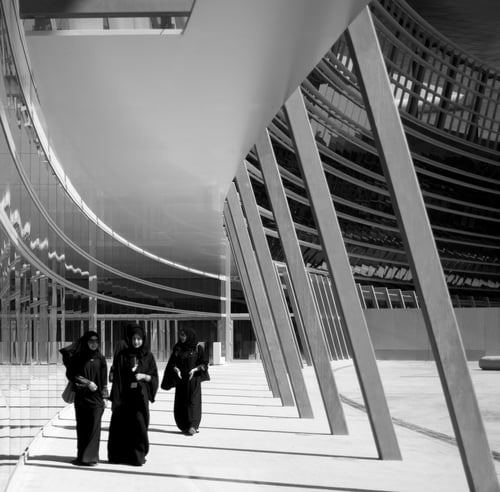 1. Be Vigilant in the Preparation of a Scholarship Application
Most scholarships clearly outline the criteria, documentation, and other requirements, and the application deadline. Before completing the application with the required details and information, a graduate student should thoroughly read the application and prepare all the relevant documentation the organization or university has asked for.
View the complete list of documentation normally required for a successful scholarship application here.
2. Steer Clear of Errors and Omissions
A well-presented application goes with saying, but still need to be stressed. Even the smallest error in an application can give the reviewers the wrong impression. Reviewers greatly appreciate well-presented applications that are clear, concise, and error-free.
3. Build an Impressive Cover Letter
A cover letter will assist scholarship applicants in making a strong appeal in front of the selection panel. Most scholarship applications require a personal statement or essay, and many consider this to be the most important, but most challenging, part of the scholarship application process.
Applicants need to outline their career aspirations and align them with the mission and values of the organizations or universities they are applying to. In answering the questions, the organizations or universities may have provided, one should weave in a sense of intrigue and personalization. Reviewers are keen to know more about who the applicants are, what talents they possess and what motivates them to pursue a particular graduate program. The more sincere and motivated applicants are on paper the better their chances to secure a scholarship.
4. Choose References Wisely
In addition to a personal statement or essay, applicants will probably need to provide references. Scholarship applicants will have to make a careful choice on who will provide the letter of reference that will support their application. Once chosen, the applicants should inform the referees about the university or organization awarding the scholarship, criteria, the selection process, and why they are applying so that the referees can address these points effectively in their letters. Referees should also be given sufficient time to write the recommendation letter.
In short, applying for a scholarship award is an applicant's chance to persuade reviewers about his or her strong career convictions that merit recognition and financial support. Applying for and getting a scholarship award is similar to applying for and getting admitted to a graduate program: both depend on in-depth preparations, excellent presentations backed up by strong motivational statements of intention, and completion by specified closing date.