How to Make the Most of Zayed University's Graduate Studies Virtual Open Day
1 Feb, 2022
Are you ready to take the next step in your career development? Choosing the right university to support your career ambitions is a decision that should not be taken lightly. Given universities are not all the same, the universities you are interested in need to be identified. You then need to carefully compare the key points of difference between each to ensure that your final choice matches your personal and professional requirements.
One of the best ways to choose the right university for your graduate studies is to meet with faculty, graduate students, alumni, and recruitment and admissions staff during virtual open days. It is a great conduit to understand what the learning environment will be like and if it fits your expectations..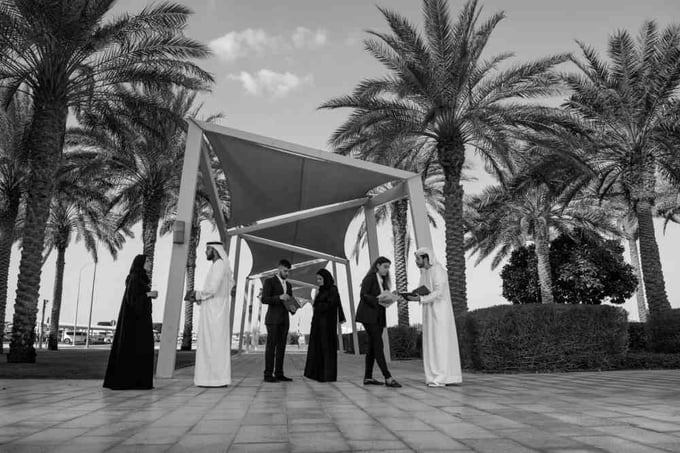 Prepare Yourself for the Graduate Studies Virtual Open Day
It is important to plan and prepare yourself to get the most from your Graduate Studies Virtual Open Day attendance.

You need to define your goals for attending the virtual open day. For example, do you want to explore the graduate programs offered by Zayed University and employment opportunities after graduation? Maybe your goal is to personally meet faculty teaching in graduate programs or talk to current students and alumni to gain valuable insights on life as a graduate student at Zayed University?

Before attending, it will be also useful to visit the Zayed University's website to view the graduate program study options available to you. Your research on the website may prompt specific questions you will want to ask on the day of the event. It is suggested also that on the day of the event, notes should be taken during talks. This information should then be stored for future reference.

Before the open day, you are required to pre-register your interest in the event so that the graduate student recruitment and admissions team can send you information about the event and also the link to the online platform that will be used and how it can be accessed.
Seven Reasons Why You Should Virtually Meet with Us
1. Experience Zayed University
No doubt you will consider several universities for your graduate studies. Although the Graduate Studies Virtual Open Day is a means of benchmarking your shortlisted universities, it is also a great chance to discover what sets Zayed University apart.
2. Explore Campus Facilities and Resources
Learn more about the cutting-edge facilities and resources available on Zayed University's campuses located in Abu Dhabi and Dubai that will enhance your study environment and education experience.
3. Get to Know Your Study Options
Whether you already know what you want to study or not, a connection with faculty will help you to decide on the graduate program that best meets your professional and personal goals. It is also helpful to know the variety of graduate programs that are available should you change your mind later. Furthermore, this is an opportunity for you to ask questions about the study plans and program delivery format of each graduate program under consideration.
4. Discover the Program Costs and Funding Options
Program costs vary drastically across different universities. Additional costs such as textbooks, travel, administrative charges also must be factored in. Finance should not, however, be a barrier to study given scholarships and loans are readily available. Our advice is that you consult with the graduate student recruitment and admissions team for sound advice on how to secure the finances you need to attend a graduate program at Zayed University as well as financial support opportunities available to you.
5. Experience Graduate Student Life
Being a university student isn't just restricted to classroom learning. The rich exposure to events, activities, and peer knowledge-sharing helps provide each graduate student with a well-rounded development. Extra-curricular activities will be a great addition to your resume, which is why students should learn all each university offers given the potential of such activities to enrich and accentuate a graduate student's growth and development.
6. Build Professional Relationships Ahead of the Intake
The Graduate Studies Virtual Open Day has tailored sessions designed for you to engage with Graduate Program Coordinators and faculty teaching in the graduate programs that you are interested in. These live talks allow for personalized conversations, one-on-one advice and answers to your questions in real-time.
7. Make Your Application for Admission Stand Out
The Graduate Studies Virtual Open Day is your chance to meet the graduate student recruitment and admission team to understand the requirements for admission to a graduate program and to support you through the application process. Learn more about the key components of your application, supplementary documents to be submitted, which application platform you should use and the application deadline when you meet with them.
Zayed University offers a range of graduate programs in many different areas such as:
1) Master in Diplomacy and International Affairs
2) Master of Arts in Communication
3) Master of Legal and Judicial Studies
4) Master of Science in Finance
5) Master of Science in Information Systems Management
6) Master of Science in Information Technology (Cyber Security)
Stay in Touch
For any follow-up questions after the event, or to make an appointment with the Graduate Program Coordinators to discuss your graduate study options and career goals, please contact the graduate student recruitment and admissions team at +971-2-599-3605 / dgs.recruitment@zu.ac.ae
Zayed University's Fall 2022 Graduate Studies Virtual Open Day that will be held on Tuesday, 20 September 2022 from 4:00 PM - 6:00 PM is now open for registration. Please click here to register and attend on the day.