Key Roles and Responsibilities of Cyber Security Professionals
26 Dec, 2022
The cyber security landscape in the United Arab Emirates (UAE) experienced a knock-on effect due to the COVID-19 pandemic when companies shifted to remote work in 2020. Businesses relied on information and communication technologies (ICT) to power their operations. However, this reliance on ICT made companies and organizations vulnerable to cyber attacks including ransomware, malware, email fraud, internet of things, and cloud, artificial intelligence, machine learning, blockchain and cryptocurrency attacks. Companies and organizations therefore employed additional cyber security professionals for effective security, safety and data protection which exacerbated the UAE's shortage of cybers security architects, managers and engineers.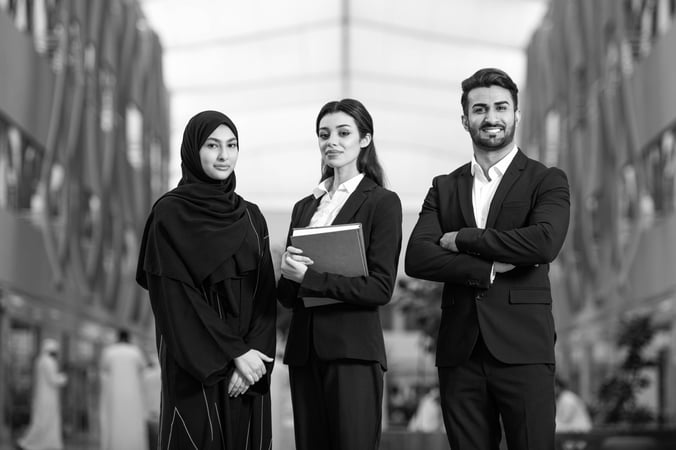 The Need for Cyber Security Professionals
The global cyber security landscape is evolving rapidly and therefore, businesses need to be more prudent than ever before. Cyber security professionals' role in safeguarding data from breaches has become more complex and challenging as there are several new digital devices and technologies to perform cyber attacks compared to centuries ago.


A statistical report revealed that 82% of businesses in the UAE faced at least one cyber attack per year which resulted in data breaches and significant financial losses. This denotes a great need for cyber security professionals to protect technology-powered businesses.
The Roles and Responsibilities of Cyber Security Professionals in Preventing Cyber Threats

Cyber security professionals protect an organization's information technology (IT) infrastructure networks, systems, and data from unauthorized access, unexpected damage or theft. These professionals use their technical skills, i.e., programming, network and system administration to identify vulnerabilities and prevent data breaches. In addition to these technical skills, cyber security professionals must be critical thinkers, curious, and passionate about learning and research. These qualities help them stay one step ahead of hackers/attackers.

As the field of cyber security is dynamic by nature and rapidly evolving, it is essential for cyber security professionals to continuously learn new techniques, technologies and best practices to effectively combat cyber attacks. However, companies and organizations should not limit themselves to candidates with only a technical background when recruiting for cyber security positions. As hackers are creative by nature, cyber security experts must be creative thinkers to outsmart them.

Apart from the technical responsibilities mentioned above, some specific duties that cyber security professionals perform are the following:
Create stringent user access controls to avoid data misuses and breaches of sensitive data.

Implement firewalls and data encryption algorithms to safeguard the organization's network from potential threats and attacks.

Perform regular audits and risk assessments to identify and eliminate vulnerabilities such as system misconfiguration, bugs and security flaws beforehand.

Generate instant incident responses to reduce the risk to systems and data, minimize the harm caused by attackers and decrease recovery time and cost.

Monitor the IT network and more specific, pay close attention to suspicious activities and take proactive measures before anything wrong happens.

Coordinate with other IT professionals to establish a shared disaster recovery plan in case of an unexpected cyber-attack.

Ensure that the organization complies with government and industry security standards through solid security practices and data protection.


Cyber Security Careers in the United Arab Emirates

The pandemic led to the scarcity of qualified cyber security professionals in the UAE. With digitization, companies and organizations became more vulnerable to cyber attacks and therefore employed cyber security experts to protect themselves against online thefts and risks.

UAE-based organizations are of the opinion that cyber security is a top priority, and its importance will only increase in the upcoming years. A report revealed that 50% of the organizations are revamping their security strategies, and 69% are considering expanding their budget by 11% over the next two years.

A news article in The National News reveals that the demand for cyber security professionals skyrocketed in the UAE, and recruiters are concerned about the shortage of cyber security experts in the country. Established cyber security consulting companies in the UAE continue to search for cyber security professionals and are willing to pay average monthly salaries of between AED 40,000 to AED 65,000.
How Can Zayed University Help You Build A Successful Career in Cyber Security?

Zayed University's Master of Science in Information Technology (Cyber Security) will help students build a successful and sustainable career as a cyber security professional. Students will be well-versed in network security, database security, digital forensics, ethical hacking, information security management and cyber-criminal behavior.

Moreover, the program opens doors to lucrative career opportunities such as cyber security specialist, IT security expert, chief security officer, digital forensic analyst and information security analyst in top-tier UAE companies and organizations. Additional job opportunities students would be able to pursue include secure web-based services, financial institutions, information security audit/consultancy firms and government organizations where national security needs are a significant priority.

Take the first step towards an exciting and rewarding career.

Contact the College of Technological Innovation, Zayed University for more information on the Master of Science in Information Technology (Cyber Security) program and the ICT Fund scholarship opportunity at +971-2-599-3605 / dgs.recruitment@zu.ac.ae