Master of Legal and Judicial Studies: Scope and Opportunities in the United Arab Emirates
8 Sep, 2022
Revised on 30 August 2023
Increasing socio-economic and cultural complexities require skilled legal practitioners with an integrated and sophisticated understanding of the theories, concepts and practices of justice that determine the rule of law. It is a known fact that organizations are always governed by and must operate within the law.

All professions also have legal elements that influence them. This degree is suitable for individuals who want to integrate knowledge of law, regulation, and compliance into their workplace. Companies consistently seek people who can speak the language of both business and legal compliance, particularly in the fields of technology where the regulation of emerging technology is rapidly developing. Therefore, legal skills are required if effective decisions are to be made that will significantly impact the organization, employees, and other key stakeholders. It means that the legal professional must have a clear and deep understanding of the laws and regulations pertaining to the United Arab Emirates (UAE) and the international community.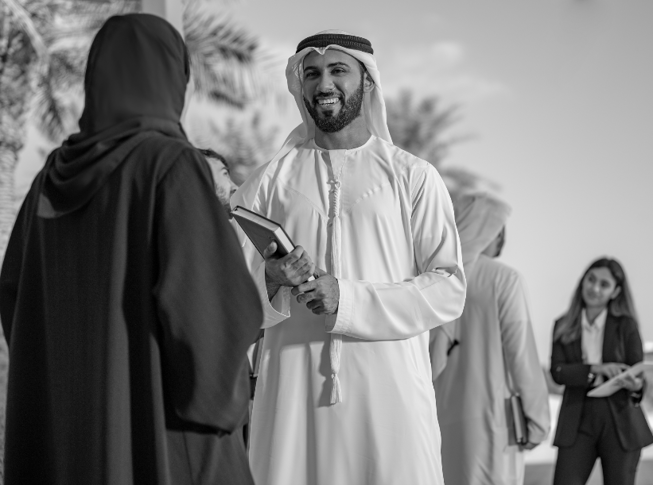 The Value of a Zayed University Master of Legal and Judicial Studies Degree
A Master of Legal and Judicial Studies degree allows a graduate to undertake work involving law and regulation without committing to a full law degree. With Zayed University's Master of Legal and Judicial Studies, offered exclusively in Arabic, a student gains theoretical and practical knowledge in the field of law and judicial administration. This enables the ultimate graduate to be equipped with the knowledge, skills, and competencies necessary for successful handling and dealing with judicial administration and affairs in both public and private law.

The program is designed to provide students with a set of basic skills to practice legal and judicial work across various disciplines within the social and cultural context of UAE society. As such, the program represents the vital field in which legal practitioners, judges, prosecutors, and lawyers carry out their work and perform their missions.

Students will develop a strong understanding of contemporary legal issues in the UAE and the potential challenges that public and private sectors can face as local and national laws are updated. The 38-hour credit hour program includes law-related core and elective courses, i.e., Studies in Civil Law, Commercial Law, Personal Status Law, Penal Law, International Humanitarian Law, Administrative Law and Criminal Procedural Law. Students also will have to complete a thesis in a topic drawn from their legal and judicial studies. Gaining specialist industry knowledge together with good research skills and expertise empower graduates to make a very solid contribution to their organization and certainly will enhance the probability that their personal career goals will be attained and quickly so.


Who Should Pursue a Master of Legal and Judicial Studies?
The master's degree program attracts applicants who are employed or aspiring to work in legal professions as lawyers and legal consultants. They are at various stages of their careers and enter the program for diverse personal and professional reasons such as the enhancement of their skills in their current positions or advancement of their careers. The degree is also suitable to job seekers with bachelor's degrees who want to enter the workforce after graduation.


What Will You Learn?
Here is a summarized version of what you will be able to do after the successful completion of your master's degree:

• Develop an insightful understanding of new laws and regulations to form an appropriate legal opinion.
• Develop skills to understand and evaluate legal issues and supporting evidence, make reasonable arguments, and uphold the spirit of the law in the organization and country.
• Gain the knowledge and skills to evaluate judicial procedures efficiently and effectively through the proper implementation of laws.
• Have the understanding needed to analyze laws independently, identify challenges and loopholes in the judicial processes, and more.
• Uphold the legal code of honor and ensure ethical practices irrespective of personal interests or bias involved.
• Develop the skills and expertise to make logical and practical solutions based on the laws of the UAE in real-life cases.

Career Opportunities
The Master of Legal and Judicial Studies program prepares you for a wide range of careers opportunities in public and private sector organizations. Examples of such opportunities include the Ministry of Foreign Affairs, Ministry of Justice, Judicial Department, private law firms, and universities. Career options include the following:
• Diplomatic Attachés or Consular Officers
• Legal Administrators
• Lawyers
• Judges
• Prosecutors
• Public Notaries
• Arbitrators
• Advocates
• Legal Instructors


Get Your Master's Degree from Zayed University
Admission is open to males and females of all nationalities. Applicants must have an earned baccalaureate degree from an accredited university recognized by the UAE Ministry of Education with a cumulative grade point average (CGPA) of 3.0 (or 2.5 for conditional admission) or higher on a 4.0-point scale or equivalent in one of the following areas of previous study:

- Law, or
- Sharia and Law, or
- Police + Law

Furthermore, applicants must be proficient in English (TOEFL score of 133 CBT, 45 iBT/ IELTS (Academic) overall band score of not less than 4.5/950 on the EmSAT English examination) as well as Arabic (1100 on the EmSAT Arabic examination).

If you are ready for career advancement and you do meet the admission requirements, we would like to invite you to apply for the Master of Legal and Judicial Studies. Zayed University offers a globally recognized program taught by experienced professors and an unmatched learning experience to give your career the boost it needs.


Acquire the skills and knowledge to excel in a rapidly evolving legal landscape. Inquire or apply to Zayed University's Master of Legal and Judicial Studies by contacting the Deanship of Graduate Studies at +971-2-599-3605 / dgs.recruitment@zu.ac.ae