Research-Based Learning: An Empirical Approach to Modern Challenges
18 Oct, 2021
Revised on 5 Sep 2023
In the highly dynamic world of ours, the role of education has broadened from offering professional stability to fostering leadership. Which is why the scope of academia is not just about helping students excel in foretold theories and practices but to let them derive at their own conclusions through intensive research and practice.
Research-based education, as a form of experiential learning, helps students understand the developments in their subjects. While the curriculum provides well-rounded knowledge that shapes student performance and potential, it also limits the space for them to explore their purpose and understanding.
Furthermore, the curriculum needs to be constantly evaluated to support the future of work. It is therefore important for institutions to not only focus on imparting knowledge but co-creating it. And for the same purpose, students should be encouraged to ask questions such as "What research or references are we drawing upon here?" or "What is the evidence that this theory will work in our setting?" At Zayed University, graduate students are hard-wired to think critically as graduate programs offer impart theoretical knowledge which is supported by academic research. The faculty and the university go to great lengths to help graduate students develop a holistic sense of themselves in the world of education and beyond.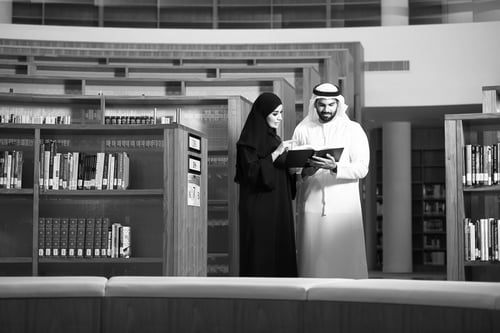 Building Transformative Competencies Through Academic Research
Research-based education helps students find practical understanding of dilemmas or challenges. It also encourages them to contribute new value, interact beyond their circle, take charge of their study and develop critical thinking and creativity.
Zayed University's graduate programs incorporate a thesis as part of the whole learning experience. The thesis is a yearlong project, which dives deep into all the nuances of the study program. The thesis is then reviewed by a committee, including an external member who serves as an expert in the field. Each graduate student is provided with the opportunity to present their research project - where they use their knowledge and research skills acquired during their studies - to an audience during a public defense. This helps greatly in building students' confidence, public speaking skills, as well as taking charge over their education.

Mentor Advisors to Support Graduate Student Research
While mentoring students is a joint responsibility of the university and the faculty, at Zayed University, graduate students are also assigned research supervisors who are committed to helping them with their thesis as well as to achieve overall personal and professional goals. These mentors help students with their framework of study and offer them guidance and support in overcoming any setbacks or challenges. This enhances the development of students' competence and character.
Graduate students can access a range of extensive research facilities available at their disposal at the university. The Library and Learning Commons at Zayed University helps students navigate through finding references and any additional information in carrying their research forward. This includes organizing workshops, finding relevant sources from a wide database, helping them access the archives and more – all in all being a great support system in every step of their way.
Zayed University subscribes to and supports a range of resources and tools useful for researchers, including the Office of Research, supporting quality research that creates new knowledge in all areas of endeavour.

Research Assistants
At Zayed University, we believe that knowledge should be cultivated to the fullest at all levels. We support and encourage faculty to develop a research-based approach to their practice. And as for graduate students who have the option to work as research assistants (RA), the opportunity helps them develop advanced research skills as well as a deeper understanding of the field of research, all of which can help them have an edge in their future jobs. Graduate students are often appointed as research assistants to assist faculty with research projects. They make significant contributions to the project, and are even asked to contribute their own ideas, and research findings to the overall project output. The entire experience builds great faculty-student relationships and develops additional skills and knowledge that is not learned in the classroom, serving them well long after graduation.
At Zayed University, the collaborative approach to education helps both students and educators produce deeper and meaningful work. With the research-based learning, students will able to mutually reinforce drawing and implementing knowledge, with applying theory that supports the best approach to a practical problem, and practice that checks theoretical relevance in context to modern challenges.
The research-based approach to education engages students with significant global challenges, equipping them with the skills and attitude needed to take responsible actions as global leaders of tomorrow.

For more information on Zayed University's graduate programs, please contact the Deanship of Graduate Studies at +971-2-599-3605 / dgs.recruitment@zu.ac.ae.