Start a Successful Career Path in Cyber Security
1 Jun, 2023
There has never been a better time for students in the United Arab Emirates (UAE) to study and excel in the field of cyber security than now.

In today's digital era, the importance of cyber security cannot be overstated, particularly in the UAE and the MENA region. As technology continues to advance, so do the methods of cyber-attacks, which can lead to significant financial and reputational damage in any industry. As a result, there is a growing demand for cyber security professionals who can help safeguard sensitive information and systems.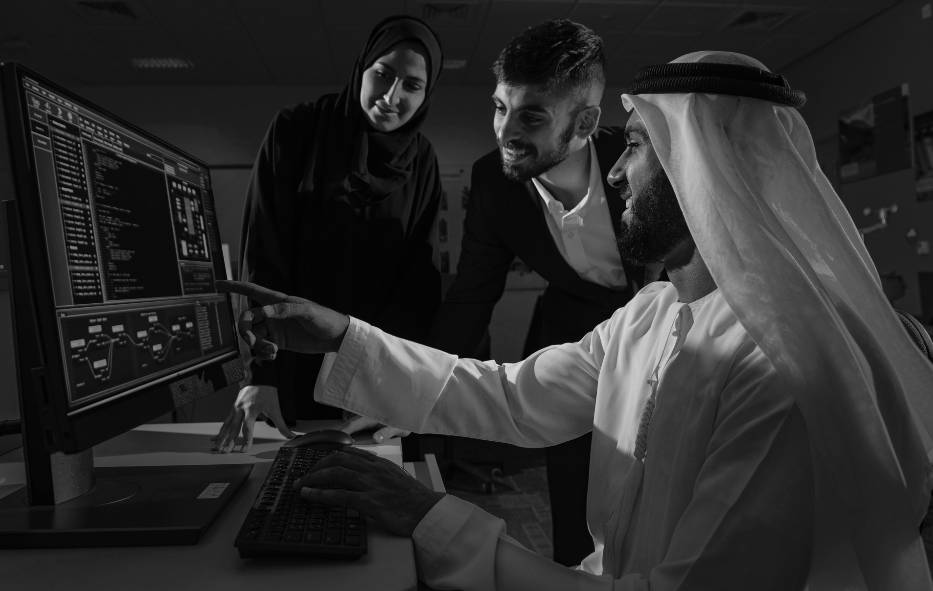 .
Emerging technologies are rapidly changing the landscape of cyber security in the UAE. For example, government employees in the UAE will be given training in emerging technologies to increase their productivity and future-proof them against emerging technologies. The Federal Authority for Government Human Resources (FAHR), announced that training in cyber security, digital transformation, blockchain, cloud computing, programming, Web 3.0, and metaverse will be done on a digital platform called Jahiz.

Furthermore, as the UAE is rapidly emerging as a global hub for technology and innovation, the government is introducing several strategies and other initiatives for the country to become a leader in technology, making it an attractive destination for businesses, and tech entrepreneurs, innovators and investors.

This blog will serve as a valuable resource for students considering a successful career in cyber security, providing them with the knowledge and guidance required to succeed in this rapidly evolving field.

During a recent interview, Dr. Richard Adeyemi Ikuesan, Assistant Professor at the College of Technological Innovation, Zayed University, was questioned regarding the steps students in the UAE can take to develop the necessary skills for a successful career in cyber security.

Utilizing his extensive knowledge and experience in the field, Dr. Adeyemi offered insightful and well-informed advice. He stressed the significance of hands-on learning experiences, internships, and staying current with recent advancements in the field to establish a strong foundation for a successful career. Furthermore, he emphasized the requirement for students to foster a genuine passion for cyber security and to proactively search for opportunities to apply their knowledge in real-world situations.
Key Takeaways
The scope and importance of cyber security, locally and globally.

How trends and developments in cyber security impact the role of cyber security professionals in the UAE.

How Zayed University's Master of Science in Information Technology (Cyber Security) prepares graduate students for diverse job roles and responsibilities in the field of cyber security.
How emerging technologies and tools transform the field of cyber security in the UAE, and the importance of mastering these to succeed as a cyber security professional.


Cyber Security Professionals in the United Arab Emirates

With regards to launching a tech career, Ruwise Sheriff, Senior Consultant – Technology, Michael Page, says, "Some of the advantages are that you'll receive a highly competitive salary and could move quickly between sectors and roles. It's a career defined by constant evolution and progression, and that's what makes it so exciting."

Cyber security professionals play a critical role in safeguarding the nation's digital assets and protecting against cyber threats, and therefore have great scope. According to the UAE 2023 Michael Page Salary Guide and Hiring Insights, "there is a shortage of qualified IT candidates. With the rapid expansion of the technology sector in recent years, the demand for IT workers has far outstripped the supply. As a result, many companies are forced to compete for a limited pool of talent."

Cyber security training is a wise investment. The Economic Research Institute (UAE) lists the average pay for a Cyber Security Engineer as AED 387,615 a year and AED 186 an hour in the UAE. The average salary range for a Cyber Security Engineer is between AED 268,230 and AED 472,503 a year. According to the UAE 2023 Michael Page Salary Guide and Hiring Insights, "In recent years, technology-based salaries in the UAE have been increasing rapidly. This is due in part to the country's booming economy and its growing reputation as a hub for technology and innovation. In some cases, it is difficult for employers to remain competitive against the growing demands of IT experts." The UAE 2023 Michael Page Salary Guide and Hiring Insights also quotes the following salaries per month in thousands of Arab Emirates Dirham (AED) for cyber security /information security professionals including basic, housing and transport:
- Cyber Security Architect AED 35 - AED 60
- IT Security Manager AED 30 - AED 55
- IT Security Engineer AED 20 - AED 40
- Security Analyst AED 15 - AED 25
- Penetration Tester AED 18 - AED 40
- Application Security Specialist AED 15 - AED 35
- Security Consultant AED 25 - AED 60
- Information Security Manager AED 25 - AED 45
- Information Security Engineer AED 15 - AED 25
- Governance, Risk & Compliance (GRC) Manager AED 25 - AED 40

With emerging technologies and new attack vectors constantly emerging, cyber security professionals must also continue to upskill and enhance their knowledge about the latest tools and technologies that influence the dynamics of the cyber security. Additional skills other than the essential technical skills such as strong command over multiple programming languages, knowledge of cloud security and tools such as Amazon Web Services (AWS) and Microsoft Azure, knowledge of mobile device security and the unique threats associated with mobile devices, and proficiency in cryptography and encryption technologies also adds value to a cyber security professional.

Furthermore, as a graduate student with an aspiration of taking on a leadership role early in one's career, it is fundamental to make a strong impression in the workplace from the start. It is therefore important to enhance an academic qualification in the field of cyber security with a set of soft skills such as critical thinking and analytical skills, adaptability skills, effective communication skills, and problem-solving and collaboration/teamwork skills.

Acquire Highly Sought-After Skills for Career Development and Progression

Zayed University's globally recognized Master of Science in Information Technology (Cyber Security) program equips students with the knowledge, skills, and capabilities to investigate, analyze, and research advanced areas in database security, digital forensics, ethical hacking, including systems and application hacking, information security management and cyber-criminal behavior. Within the cyber security ecosystem, students will analyze global, ethical, legal standardization, and non-technical issues pertaining to network/internet security and implement solutions to address them. Furthermore, students can acquire industry-recognized certifications such as CISSP, OSCP, CEH, and GCFA while completing the program.

The 30-credit hour master's degree program with a thesis or non-thesis study option, covers various areas of cyber security including computer systems security, incident response, penetration testing, cybercrime investigation and digital forensics. Students will acquire key skills and competencies in:

The fundamentals of cyber security.

Computer systems security and digital forensics.

Issues and solutions pertaining to computer systems security.

Network and computer security systems to anticipate and respond to threats and attacks.

Cyber security policies, procedures, and technical solutions.


As the importance of cyber security across various industries grows, an increasing number of upper-level management roles will emerge within government entities, non-governmental bodies, solidifying the academic and authoritative foundation provided by the master's degree. Upon graduation, students can pursue various roles such as security analyst, security architect, network security engineer, and digital forensics investigator.


For more information about Zayed University's Master of Science in Information Technology (Cyber Security) program, please contact the College of Technological Innovation at +971-2-599-3605 / dgs.recruitment@zu.ac.ae