The Future for Public Relations and Tourism Professionals is Promising
3 Mar, 2022
by Nisthula Nagarajan
As we fast approach a new academic year, students are faced with the challenge of choosing the perfect educational path as they enter a new session. Globally, the United Arab Emirates (UAE) is considered as one of the ideal study destinations for the finest reasons — infrastructure, its metropolitan vibe and safety.
One of the universities that call the UAE its home and the country's pride is Zayed University. Founded in 1998, it is a nationally and regionally recognized leader in educational excellence and innovation, proudly bearing the name of the founder of the nation — the late Sheikh Zayed bin Sultan Al Nahyan, whose leadership legacies continue to guide and inspire the nation.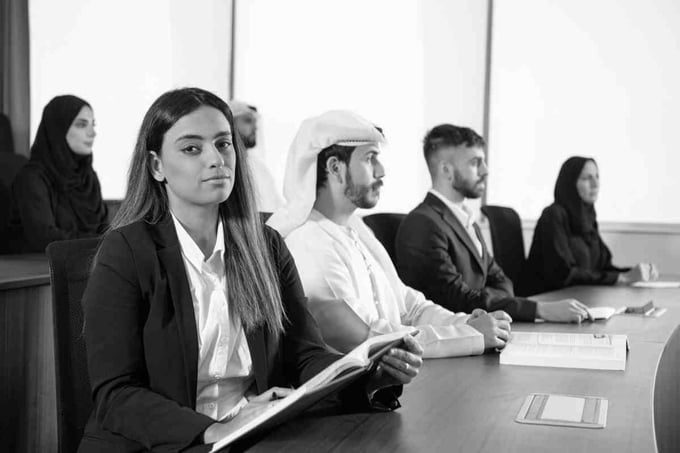 The UAE's economic growth is forecast to recover fully from the impact of the global Covid-19 pandemic. Considering the outbreak, organizational communication is more important than ever. It is an essential tool to achieve productivity and maintain strong working relationships. It has become particularly important given the pandemic has introduced the work-from-home model to employers and employees alike. Every sector needs effective communicators to support its mission internally and externally.
While many sectors have been affected as a result of Covid-19, media, tourism and hospitality were sectors that took the hardest hit. Now, these sectors are expected to bounce back with force. The public relations (PR) sphere is exploding with action as brands push for their strategic communication to go digital. According to Asda'a BCW, a Dubai-based PR agency, it is estimated that by 2030, the PR industry will be worth $2 billion driven by the growth of global brands that emerge from this region. Jobs within the media and communications industry are set to grow by four per cent by 2028, resulting in around 27,600 new jobs, says research by Edarabia, a top education guide in the Middle East.
Communication in the tourism industry is also expected to grow rapidly. Known for its hospitable culture, the Gulf region, and the UAE, in particular, has always had strong growth in the tourism industry. According to global travel company Kuoni, the UAE has emerged as the 'world's most searched destination for tourism in 2021'. The UAE hospitality sector, having adjusted to new safety requirements, is ready to serve both domestic and international tourists.
With such anticipated growth, these industries now demand highly skilled communication leaders prepared for the changing world of strategic communication.
What are the Benefits of Earning a Master of Arts in Communication?

Several benefits come from earning a Master of Arts in Communication. These include:

Learning valuable skills and knowledge, i.e. cross-cultural communication, professional communication, writing and speaking to different audiences, strategic messaging, storytelling with data, research, etc.

Keeping pace with the latest trends, and social and digital technologies in the field.

Being employment-ready in private, government, and non-profit sectors.

Exciting career opportunities in a growing industry
Graduate Program Study Options
Moving with the current trends, the College of Communication and Media Sciences, Zayed University offers a globally recognized Master of Arts in Communication with study options in strategic public relations and tourism and cultural communication.

Dr. Dwight Brooks, Dean, College of Communication and Media Sciences, Zayed University commented, "Faculty in our college are cognizant of the critical impact that both tourism and strategic public relations have on the UAE economy. Our professionally-oriented Master's degree program is designed with flexibility for practicing professionals. Graduate faculty are internationally known for scholarship in their respective disciplines and industry expertise. We are proud that our graduate programs have produced leaders in both the public and private sectors of the UAE society."

Master of Arts in Communication
In 2010, Zayed University launched the Master of Arts in Communication program with a focus on Tourism and Cultural Communication. In the first intake there were eight enrolled students on the Abu Dhabi campus. The next year on the same campus, the Master of Arts in Communication, with a focus on Strategic Public Relations, was launched with 18 enrolled students. Since then, 115 students have graduated with a Master's degree in Communication. This select group of professionals has built an influential alumni network that now shares the collective Master of Arts in Communication experience.

The program prepares students to become professional communicators who can contribute to the nation-building efforts of the UAE and its important industry sectors. Mastering the crafts of written, oral and visual communication, students learn how to effectively take their innovative ideas, strategic insights, and creative solutions to both internal and external audiences.

The study option in Strategic Public Relations is designed to provide students with the knowledge and understanding of strategic communication and emphasises how to think strategically in a global context. Overall, students acquire key skills and competencies to effectively manage organisational aspects of communication. A Master's degree is expected to help students climb the ladder in a Strategic Public Relations career. Opportunities include communication roles in corporate enterprises and government agencies and organisations. Graduates can work in corporate communication, public affairs, public relations, and marketing roles. Such employment can be across all industries such as healthcare, non-profit organisations, and every possible sector (banking, oil and gas, and construction, etc).

The study option in Tourism and Cultural Communication is designed to provide students with extensive knowledge and understanding of the tourism sector and applies strategic decision-making in a global context. Overall, students acquire key skills and competencies in effective planning and the management of both tourism activities and culture-related aspects of communication. Graduates will be enabled to take advantage of the varied career prospects that include communication roles in tourism, hospitality and events enterprises. Graduates are employed in government departments and tourism development agencies, and any tourism industry sectors such as attractions, museums, transport, festivals, destinations and more.

Graduate Program Structure
If you are looking to expand your expertise or thinking of a career change, the Master of Arts in Communication will help open doors and create opportunities, giving you a competitive edge. Benefit from the blend of course work and research committed teaching by faculty renowned for their research portfolios and extensive industry experience, a supportive learning environment, and state-of-the-art facilities and resources on the modern campuses located in Abu Dhabi and Dubai.

The three-semester/36-credit program is offered in English. Seven core courses provide the foundation for discipline knowledge. Starting in the second semester, five courses that include an applied research seminar and capstone research project deliver advanced topics tailored towards theory development and industry application in one of the two options — Strategic Public Relations or Tourism and Cultural Communication.
Invest in Yourself and Achieve Your Full Potential
The graduate program is ideal for job seekers with bachelor's degrees who want to enter the workforce after graduation. It is also designed for professionals who want to make a career change, use the degree for career advancement, enhance skills in their current positions or pursue a doctoral degree.

Admission is open to students from all nationalities. Applicants must have earned a four-year baccalaureate degree with a CGPA of 3.0 or higher from an accredited university and demonstrate sufficient English proficiency to manage a challenging, fast-paced program. While a bachelor's degree in communication would be beneficial, this is not essential to gain entry to the Master of Arts in Communication program. Zayed University is committed to helping graduate students afford their education by providing financial support, including academic merit and alumni scholarships, and corporate discounts.
The application deadline for Fall 2022 is 26 June 2022.
If you are looking for an intellectually stimulating and immediately relevant program in the field of communication, contact the College of Communication and Media Sciences, Zayed University at +971-2-599-3605 / dgs.recruitment@zu.ac.ae