The Value of a Master in Diplomacy and International Affairs
6 Jun, 2022
by Nisthula Nagarajan

From conflict to poverty, deforestation to pandemics, we live in a demanding era and face unforeseen challenges. A central hub, such as the United Arab Emirates (UAE), provides the perfect launchpad for those who are interested in pursuing a career in diplomacy and international affairs. The rapidly changing global political environment makes it the right moment to begin or upskill your journey in this arena. According to StudyPortals, international affairs is an important degree owing to the need to hone a global perspective to understand and eventually mellow the conflicts of the world around us.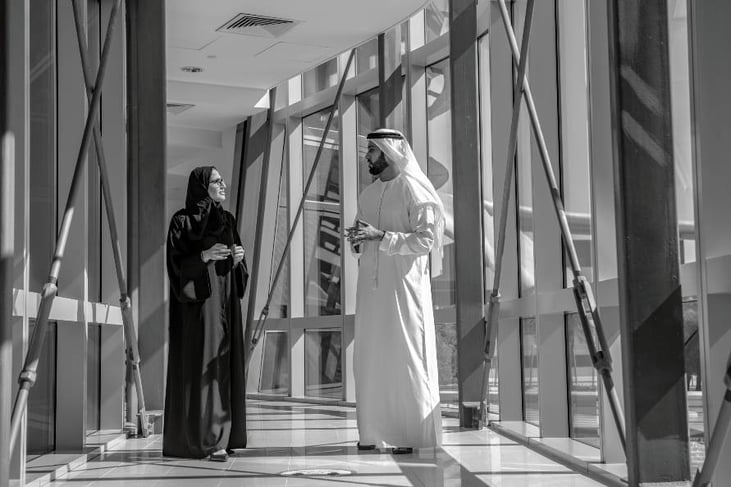 What sets a graduate of diplomacy and international affairs apart from the ordinary debater is their skillset. Students who specialise in this field learn fundamental competencies such as critical thinking and quantitative reasoning, analytical writing, global awareness, in-depth research, information and technological literacy, diplomatic discussion, and the presentation of strategic ideas on sensitive issues.

No matter the field, these skills are applicable across a range of careers within and beyond roles in international affairs and are transferable to many areas of study like the environment and climate change, health, conflict resolution, or social justice. In the US alone, the Bureau of Labour Statistics states that international affairs positions are expected to grow by 6 percent through 2029. Two of the most famous graduates with an international affairs degree are Ban Ki-moon, the eighth Secretary-General of the United Nations and late US President John F. Kennedy.

The UAE has risen from endless winding dunes of sand to a 'Land of Golden Opportunities' in a span of five decades. Foreign investment and a large expatriate population have been a large part of this growth. The reason is that the country is welcoming and tolerant to all cultures and has great diplomatic and bilateral ties with most of the world's nations. Supporting the UAE and the region in its development is Zayed University, a public university bearing the name of the Founding Father of the UAE, the Late Sheikh Zayed bin Sultan Al Nahyan. It has excelled as a robust pillar of education in the country for more than two decades. The institution provides a vibrant academic environment, from dedicated, internationally accredited faculty to research-focused curricula to state-of-the-art facilities on the campuses located in Abu Dhabi and Dubai.

The College of Humanities and Social Sciences, Zayed University's primary goal is to create a leading position in diplomacy and international affairs in the UAE on both the academic and practical level. Students enrolled in Zayed University's College of Humanities and Social Sciences graduate as motivated and passionate students who understand the complex issues confronting the nation, the region and the world around them.

Master in Diplomacy and International Affairs
The program offers participants the opportunity to develop in-depth knowledge of diplomatic history, political economy, and regional and global relations in addition to developing soft skills such as communication, cross-cultural management, analytical and negotiation skills.

Students come from wide-ranging functional and industry backgrounds, as well as the defence, public and not-for-profit sectors, all of whom benefit from improving their understanding of the multiple effects that international factors can have on their objectives.

Gain Universally Applicable Skills
Those who graduate with a degree in diplomacy and international affairs gain an impressive skillset that is applicable in multiple fields. A clear outcome of completing this program is an in-depth understanding of advanced political, economic, and historical concepts, with the ability to connect these various disciplines when explaining local and international events. Becoming globally aware, students will also be able to evaluate and critique political, social and economic forces as well as analysing the socio-cultural norms that affect international events. Strong research skills are developed, i.e. investigation, collection and utilisation of data from multiple reputable sources. Overall, students will have the ready expertise to headway UAE's international relationships. They can evaluate the complex political, administrative, and legal structure of the state and produce strategies and practices to the understanding of the UAE's contributions to the international political and economic system.
Launch Your Career to be a Global Leader of Tomorrow

Zayed University educates future generations of diplomats for dynamic and exciting careers in diplomacy and international studies in private and public sector organizations. However, today's diplomats work on a broad range of topics such as climate change, conflict resolution, environmental and humanitarian issues, global health, and science and technology, to name a few. However, it is not all about politics either. Having a unique transferable skillset will prepare students for career choices in the Foreign Service, Ministry of Interior, Department of Defense or other government organizations, international civil service, international NGOs (working in fields such as development and humanitarian assistance), think tanks, news media and teaching and research.

The program is ideal for job seekers with bachelor's degrees who want to enter the workforce after graduation. The program is also designed for participants who want to make a career change, use their degree for career advancement, enhance their skills in their current positions or pursue a doctoral degree.
To further your career development and success in the field of diplomacy and international affairs, please contact the College of Humanities and Social Sciences, Zayed University at +971-2-599-3605 / dgs.recruitment@zu.ac.ae