Top Skills That Will Dictate the Future of Work in UAE
24 Aug, 2021

The past few years have made it evident that the future work will be different from what was previously anticipated. With technology increasingly shaping many aspects of work, 42 percent of core skills required to perform a job are expected to change, as per the report by Weforum.
To get ahead in the transformational phase, professionals should embrace the technology-driven displacement of work and acquire the necessary skills to remain industry-relevant. The ever-changing economy, new market demands, changing business structures to further automation have made reskilling inevitable. Social skills, analytical ability, and technical prowess have become important to career growth and success.
Taking all into account, the role of educational institutions in helping students achieve success is not just focusing on hard skills but spurring soft skill development as well. At Zayed University, the learning structure is aligned with the changing needs of professionals who wish to fulfill workplace expectations of the future. Graduate programs are intended to help graduate students gain professional recognition in the field of their choice. If their goal is to become a specialist in the field that they are passionate about, or to pursue a successful academic career, a graduate degree is crucial.
Since 1988, Zayed University facilitates educational excellence and innovation in the UAE. This encompasses building intensive, tech-savvy graduate programs that focus on the most in-demand skills.


1) Digital Competence

As digitization is expected to remain unabated and may accelerate in many areas of work, having adequate digital competencies is crucial at the professional level.
The specific skills that employers seek is the ability to analyze, utilize, create and represent information using digital technology. For many industries, improved digital capabilities of the workforce have proven to lead to better decision-making, competence and better collaborations across teams.
Also, as businesses increasingly become technology-reliant, the need for cyber-security also witnesses a spur. Zayed University's graduate programs offered by the College of Business and College of Communication and Media Sciences focus intensively on honing digital skills in the students to keep up to date with the needs of the job market of tomorrow. For example, the Master of Arts in Communication provides students with an opportunity to specialize in fields related to communication, i.e. develop compelling messages, design media campaigns, and strategies and execute them professionally by building a conceptual process of traditional and digital media.


2) Analytical (Critical) Thinking

Companies are increasingly looking for analytically sound employees who approach burgeoning problems with measurable solutions, leaving behind no room for guesswork. Analytics skills generally refer to interpreting a business problem with a deeper understanding through brainstorming, finding patterns and drawing profit-yielding conclusions, theorizing new information and making quantifiable decisions, etc.
Therefore, analytical skills in respect to data, market research, and operational efficiency will become an in-demand skill for professionals across work responsibilities.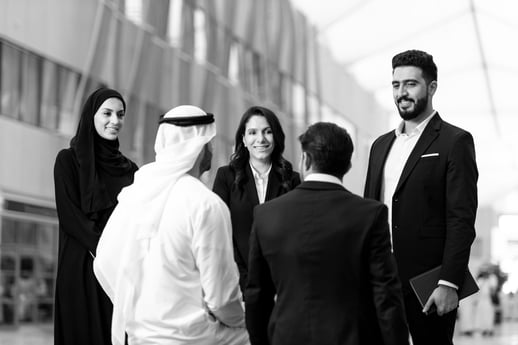 3) Artificial Intelligence


Artificial Intelligence (AI) and Automation systems are a part of almost every business, irrespective of their scale. As per a report issued by Deloitte, 37 percent of organizations have deployed AI solutions—up 270 percent from four years ago. But for any organization, deploying AI solutions is complacent with building an AI-ready workforce, making thoughtful interpretations arrive at practical solutions, and delivering results.
As such, the requirement for professionals with advanced degrees in AI concepts and techniques is expected to increase considerably to help businesses drive their AI ambitions. Bearing in mind the industry demands, Zayed University's College of Technological Innovation offers a graduate program for students to gain advanced specialized knowledge and skills in artificial intelligence. The core competencies supporting the Master of Science in Information Systems Management are two-fold. First, faculty teaching in the program has solid experience in data science, artificial intelligence, digital transformation, information system management, and other related disciplines in terms of teaching and research, which ensures that the students are taught by experienced faculty in the domain. Second, faculty involve students in research, where students turn their course work into research papers.

4) Collaboration Skills

The jobs of tomorrow are likely to focus equally if not less on soft skills as they do on hard and technical skills. Workplace collaboration, if absent, can become a significant barrier to the adoption of new technologies, improving operational efficiency, realizing the benefits of automation, and transitioning into it.
Graduate education unequivocally focuses on building a networking mindset of graduate students, which helps further their knowledge, skills and professional circle. Promoting group interactions through case study analysis, team projects and more. In today's workplace, business is conducted in teams. Zayed University's graduate programs specifically prepare professionals for teamwork and effective collaboration in and outside classrooms. Providing mutual support and forging bonds that often lasts beyond graduation, teams create a dynamic and stimulating environment for learning. For example, throughout Zayed University's Master in Diplomacy and International Affairs, graduate students will develop valuable team and leadership skills that they will carry with them into their careers.


5) Continuous Learning (Growth Mindset)


The performance of organizations today is anchored in adaptability to fast-paced technology. To best embrace the changes, the need for continuous learning becomes more important than ever. Organizations are actively looking for employees who are agile, solution-oriented, and possess a growth mindset. Continuous learning is constantly acquiring new skills and knowledge with the evolving requirements of industries.
For students who want to become high-caliber, dynamic professionals, pursuing graduate studies is a relevant option. To help extend learning for professional and personal development, and to grow in the field of study that is well-crafted to the evolving needs of the real world, Zayed University offers graduate programs to help advance specific skills to become industry relevant.

For more information on Zayed University's graduate programs and admission requirements, please contact the Deanship of Graduate Studies at +971-2-599-3605 / dgs.recruitment@zu.ac.ae