Ways to Enhance Your Career Prospects While Studying for a Master's Degree
6 Apr, 2023
Pursuing a master's degree is a valuable investment in one's future career prospects. This is especially so in the United Arab Emirates (UAE) given it is home to diversified and dynamic industries seeking highly skilled individuals to contribute to their growth and success.

The UAE's latest visa policies have made the job market even more competitive, and merely obtaining a master's degree may now not suffice. To be successful in today's fierce job market, graduate students must follow a multifaceted approach that goes beyond the classroom and coursework. Apart from studying, they must focus on mastering professional skills and building a strong network of contacts. Students must also strive to gain practical experience through internships, volunteering, or research-related fieldwork, all of which can add value to their resume and make them stand out to potential employers.

This article provides advice to graduate students on how to enhance career prospects while undertaking a master's degree hence ensuring they are well-prepared to seize rewarding employment opportunities in their desired organizations.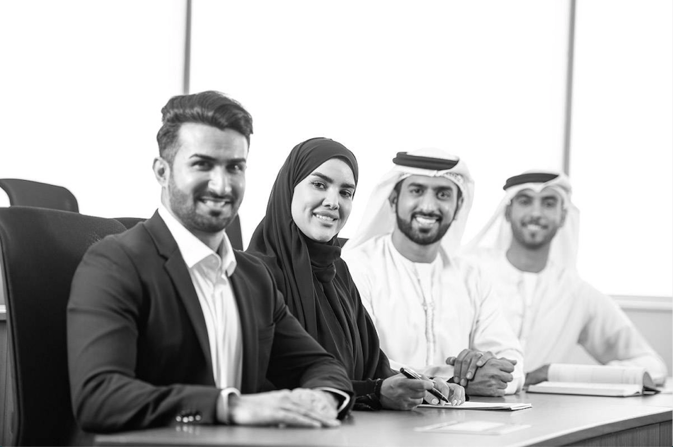 - Cultivating Proficiencies
Graduate students must focus on cultivating proficiencies as it not only boosts their academic performance but prepares them well for future job opportunities and all too often opens doors to more career opportunities.

To do this, graduate students could engage in endeavors that include visiting conferences, taking part in internships, and seeking leadership positions in groups or clubs. They should also focus on ongoing skill improvement and self-learning. For example, if you are a graduate student pursuing a Master of Science in Information Systems Management at Zayed University, you can master business intelligence and data analytical skills by enrolling in short certificate courses offered by credible institutions to gain a better understanding of the emerging technologies surrounding today's businesses. Developing such proficiencies certainly gives an edge and demonstrates to potential employers that the candidate possesses the necessary skills to succeed in the workplace.

As a graduate student studying in the UAE, you should also focus on Arabic as well as English language proficiency to enhance your communication skills and expand your career opportunities in the UAE and MENA region. While fluency in Arabic provides students with an in-depth understanding of the cultural and societal context of the country, expertise in English enables effective communication with international colleagues and clients. Moreover, bilingual proficiency is often an essential requirement for job opportunities in the UAE, making it a highly desirable skill for career advancement.
- Gaining Experience
Acquiring practical experience while pursuing a master's degree not only provides graduate students with an opportunity to apply their theoretical knowledge and skills to real-world situations but also enhances their marketability in comparison to candidates with limited or no experience when applying to different organizations.

Obtaining relevant experience can be achieved by engaging in internships or part-time work in the desired industry, actively collaborating with professors on research publications, and participating in practical fieldwork during the undertaking of a master's thesis that requires interaction with industry experts.

- Networking
Networking is crucial for professionals and particularly important for those pursuing a master's degree in the UAE. By engaging with professionals in their field, graduate students can benefit from, i.e., referrals to rewarding job opportunities, receiving valuable mentorship, and establishing a good rapport within the industry. The advantages of making connections include the opportunity to gain industry-specific knowledge and insights and expanding the knowledge base by acquiring and mastering certain skills. These skills will help students stand out from the crowd when they apply for jobs.

To make connections with professionals in one's field, attending industry events and conferences, joining professional associations and organizations, and connecting with alumni networks can be helpful. Graduate students can also get in touch with industry leaders and professionals by using social media platforms such as LinkedIn and Twitter.

With over 900 million users worldwide, LinkedIn has become the go-to platform for professionals to network, share ideas, and seek new opportunities For instance, a graduate student in the field of finance may connect with a senior finance professional on LinkedIn. By engaging in conversation and sharing their interest in the industry, students may learn about new job openings, receive valuable career advice, or offered an internship.
- Preparing for the Job Market
Updating one's resume with industry-related knowledge, technical and soft skills can significantly enhance one's career prospects. By highlighting one's expertise in one's field of study, and displaying one's unique skill set, one can set oneself apart from other candidates and demonstrate one's value to potential employers. This can lead to better job offers, greater earning potential, and a more fulfilling career path.

Graduate students should prepare themselves for job interviews with the assistance of their professors, professional network, and online resources. By leveraging these resources, students can develop the necessary skills and confidence to display their knowledge and expertise effectively during the interview process.


Conclusion
Obtaining a master's degree alone is not enough. Students must focus on cultivating proficiencies, gaining practical experience, building a strong network, and preparing for the job market to improve their position and grab more rewarding opportunities in the job marketplace. Zayed University's comprehensive and dynamic approach to education equips students with the necessary skills, practical experience, and industry connections to succeed in both the public and private sectors. By enrolling in a graduate program at Zayed University, students can be confident in their ability to excel and lead in their respective fields.


For more information about Zayed University's graduate programs, contact the Deanship of Graduate Studies at +971-2-599-3605 / dgs.recruitment@zu.ac.ae