Why Pursue a Career in Public Relations
3 Mar, 2022
Revised on 25 August 2023
"Public relations are a key component of any operation in this day of instant communications and rightly inquisitive citizens." - Alvin Adams


For business objectives to reach their fruition, effective communication is crucial. It not only strengthens the connection between businesses and its stakeholders, but it also greatly impacts their decision-making ability, overall performance, and strategic ties. It is for this reason that public relations professionals with impeccable communication skills are today regarded as a great asset to a firm as they continually engage and build relationships with internal and external stakeholders. Also, with the cut-throat competition in today's economy, strong positive communication is essential for business growth and success.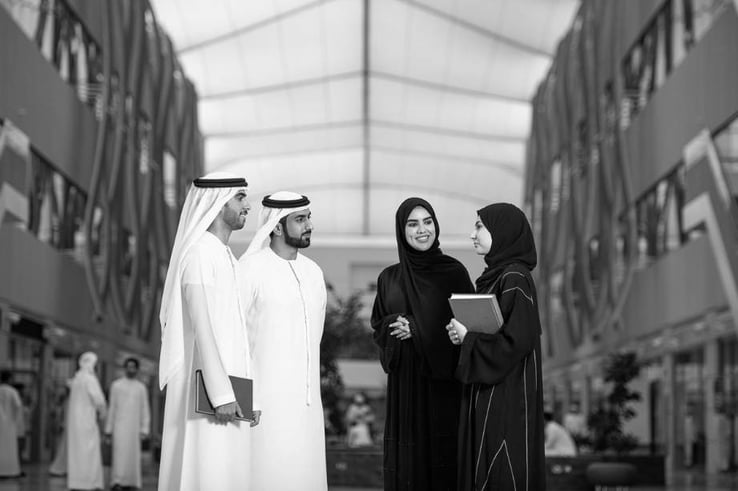 The demand for competent public relations professionals has now reached an all-time high. Organizations are constantly seeking individuals with the right blend of skills and aptitude, who are digitally adept and capable of tactfully and proactively offering reputation management through networking, written and oral communication. This demand is especially strong in the United Arab Emirates (UAE). According to the 2021 Global Capability Framework Study which examined the capabilities required for the public relations and communication management profession in the UAE, the top fourteen capabilities include strategic management of communication, risk and crisis management, reputation management, relationship management, messaging and content creation, and the communication of desired messaging across multiple media platforms, technologies, and channels.

"As a whole, the PR industry in the UAE continues to grow steadily. While specific figures for the size of the PR market in the UAE may vary, it is undoubtedly a thriving industry within the country's broader communications and marketing sector. The growth is driven in part by the UAE's position as a global business and tourism hub. This status has attracted numerous multinational corporations and international organizations to the country's shores, all of which require effective PR services to manage their reputations and communicate with both local and regional stakeholders. The country's diverse economy, which spans sectors such as sustainability, finance, energy, real estate, hospitality, and technology, contributes to the robust demand for PR services across various industries.

Furthermore, the UAE's focus on hosting major global events, conferences, and exhibitions has fuelled the growth of the PR industry. Events such as the Dubai Expo 2020 and now the upcoming COP28 conference draw international attention, necessitating strategic communication efforts to showcase the country's achievements and initiatives to a global audience. As the UAE continues to position itself as a global player in various sectors, the PR industry will sustain its growth trajectory, offering immense opportunities for professionals and agencies in the years to come." Feras Sleem, COP28 to Drive Demand for PR Services in the UAE, 24 July 2023, https://www.arabadonline.com/en/details/industry-talk/COP28-to-drive-demand-for-PR-services-in-the-UAE

With the UAE's commitment to innovation, sustainable development and global partnerships, the expertise gained from a master's degree in strategic public relations is therefore crucial for shaping perceptions, building relationships, and ensuring the nation's message resonates authentically and effectively. With the region garnering interest from world leaders, and many expats thriving here, the government proactively promotes public relations as a professional activity. In addition to the explosive growth of public relations agencies in the country (110% since 2010) the need for public relations professionals is not industry-specific but rather multi-faceted. This gives students even more reasons to pursue a master's degree in communication.


The Master of Arts in Communication with a study option in Strategic Public Relations offered by the College of Communication and Media Sciences at Zayed University, is a cutting-edge program for students to master modern communication, advanced communication practices and strategies, and cross-culture interactions. They emerge as adept communicators who can navigate the complexities of messaging, persuasion, and engagement across various platforms and audiences. This proficiency is critical in a world where information dissemination and perception management play pivotal roles in organizational success. Furthermore, it equips students with the skills to navigate the complexities of communication in a strategic and ethical manner, positioning them for success in a multitude of sectors.
Public Relations in Today's Business Environment
As technology advances, businesses in the United Arab Emirates, just like the rest of the world, are revamping their standard approaches to communication, bringing digital media into the equation along with traditional media. To overcome business challenges posed by digital media such as social media or technologies such as artificial intelligence, businesses require public relations professionals to be updated with market demands. In an era where digital platforms dominate communication channels, studying strategic public relations offers a comprehensive understanding of digital engagement. Zayed University's Master of Arts in Communication with a study option in Strategic Public Relations is designed for strategic and forward-thinking leaders to solve these challenges. Graduates will be equipped with the knowledge and skills to leverage digital tools to monitor and influence consumer behaviour which greatly impacts the bottom line of any business. Mastering the tenets of strategic public relations, especially in the context of rapidly evolving social media, is a critical ability for communication management professionals.

The study of strategic public relations also hones crisis management expertise. Students emerge with the ability to respond to unexpected challenges with composure, transparency, and effective communication. This skill is indispensable in a world where organizations are under constant scrutiny, and a well-handled crisis can preserve reputations and stakeholder trust.

Career Opportunities
In the dynamic landscape of the UAE, where rapid development, cultural diversity, and global connectivity converge, the demand for skilled strategic communicators have never been more crucial. Career opportunities include communication roles in many types of organizations, including corporate enterprises, government agencies and non-profit groups.

Nearly every industry has a need for skilled communicators. Employment opportunities are across various sectors of the economy such as business, construction, education, engineering, finance and economics, health care, insurance, media, oil and gas, real estate, telecommunications, travel, wholesale/retail, media, public services, etc. Typical roles include the following:

Corporate Communications

Crisis Communication

Digital Communication


Media Relations

Public Affairs/Relations

Marketing and Advertising

Sales

Fundraising

Writing, Editing and Publishing

Meeting and Events Planning

The Michael Page Salary Guide and Hiring Insights United Arab Emirates 2023 benchmarked the average monthly salary (including basic, housing and transport) of a Regional PR/Comms/Lobbying Director at AED 60,000 and a PR/Comms/Lobbying Manager at AED 45,000. The 2023 average monthly salary of a Marketing Director in the UAE benchmarked at AED 60,000 while a Chief Marketing Officer (CMO) benchmarked at AED 95,000. The 2023 average monthly salary of a General Manager of Sales and Marketing benchmarked at AED 75,000 while the average monthly salary of a CEO/Managing Director of Sales and Marketing benchmarked at AED 95,000.


For more information on Zayed University's Master of Arts in Communication with a study option in Strategic Public Relations, please contact the College of Communication and Media Sciences at +971-2-599-3605 / dgs.recruitment@zu.ac.ae